California is a leader in the solar industry. Solar panels may be a good option if you live in the Golden State and are interested in lowering your household carbon emissions and saving on energy costs. Are solar panels the right choice for you? This article will discuss all you need to know about California solar panels, including pricing, benefits, and incentives.
California's average residential electricity rate is higher than the national average. According to the Energy Information Administration, California's average residential electric bill was about $131 monthly in 2021, or $1,568 over a year. If you invest in a solar system that covers your entire energy usage, you could save up to $1,568 each year with solar energy. Whether you're interested in helping the environment, lowering your energy bills, or both, you can save on solar panels more than what has been saved in previous years.
California Solar Panel Costs
The cost of a home solar panel system will depend on the system's size (how many panels you purchase), additions like solar batteries, and installation costs. California's average solar panel system is smaller and cheaper than others, although the cost per watt is generally above the U.S. average.
Because solar is so popular in California, customers can choose from many solar panel installers when looking for the right solar company. Based on the Lawrence Berkeley National Lab data, here's a breakdown of the average size and cost of solar panels in California and the U.S.
Solar Installation Costs in California
High: 8.64 kW Price per watt: $4.63 Total cost: $39, 975
Middle: 5.67 kW Price per watt: $3.87 Total cost: $21, 935
Low: 3.72 kW Price per watt: $3.05 Total cost: $11,361
California vs. The U.S.
California 5.67 kW Price per watt: $3.87 Installed cost: $21,935
Nationwide 7.6 kW Price per watt: $3.67 Installed cost: $26,882
If you decide to invest in solar panels for your home, several financing options make purchasing easier. You can buy your system outright or finance it with a solar loan. Solar leases and power purchase agreements are also available in California, but you won't own your system or qualify for tax incentives.
Incentives and Rebates
Solar panels are a substantial investment. Several solar tax credits and incentives can make solar more affordable, especially in California. The Residential Clean Energy Credit is a federal solar tax incentive that credits 30% of the cost of a solar system, regardless of its size, back to consumers who buy solar panels. This solar tax credit was increased and extended due to the Inflation Reduction Act, passed in August. This tax credit could save you as much as $6,580 on the average solar panel system.
You can apply for the Residential Clean Energy Credit by filling out IRS form 5695, and once it's approved, you will receive your savings in credit when you file your federal tax return for the year. Many other state and local solar incentives are available in California, too. Here are just a few you should know.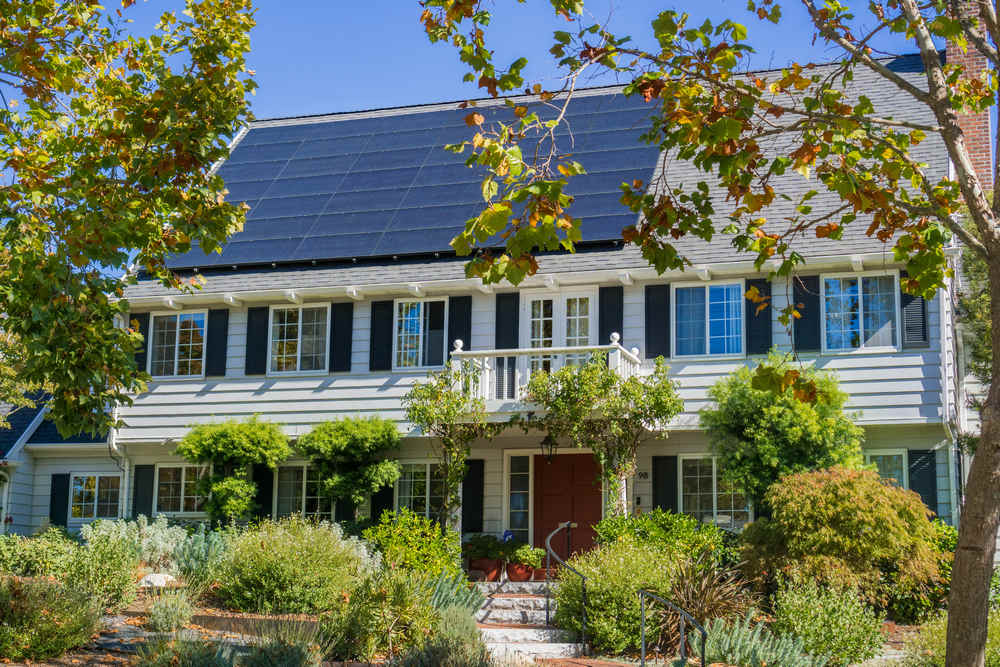 California Solar Incentives
Disadvantaged Communities/Single-Family Homes – DAC-SASH provides no-cost rooftop solar installations to California households that meet set income qualifications.
Property Tax Exclusion for Solar Energy Systems and Solar Plus Storage System – Consumers who install solar energy systems before 2024 are excluded from paying increased property taxes.
Net Metering Programs – California offers net metering programs where consumers can sell extra solar energy generated by their system back to the grid. Residents who apply for permission to operate their solar systems before April 15, 2023, can secure NEM 2.0 rates.
Sales and Use Tax Exemption – Equipment that generates or stores electricity, including solar panels and batteries, are exempt from sales and use tax in California.
Self-Generation Incentives Program – SGIP provides rebates to homes and businesses that install energy storage systems, such as solar batteries.
Installation Factors
Solar panels are a big investment, so it's important to consider what could impact whether they're right for you, your home, and your family. Some installation aspects to consider include the following:
The condition of your roof: The size, shape, and slope of your roof can affect how much electricity a solar system generates. Solar panels are most efficient on roofs with a slope between 15 and 40 degrees. Older roofs or roofs needing maintenance should be replaced or repaired before installing solar panels.
HOA and neighborhood regulations: California law prohibits HOAs from banning solar panel installations, but they might have specific requirements, and you might need approval. Research the requirements for solar installation in your neighborhood so there are no issues when you decide to install.
Insurance coverage: After installing solar panels, contact your homeowner's insurance agency to add the panels to your policy. Most standard policies cover rooftop solar panels, but you'll need to become aware of any changes to your policy.
Your location: Solar panels are designed to work in all climates and areas that receive indirect sunlight. They are more efficient when receiving at least four hours of direct sunlight daily. Suppose your home is in a cloudy region of California or gets shade coverage throughout the day. In that case, a solar panel system will not generate as much electricity as it would with direct sunlight.
Renting your home: If you rent your home, you may not be allowed to install solar panels. Check with your landlord or rental management company to confirm whether solar panels are allowed. If they are not, consider community solar programs as an alternative. You can subscribe to electricity produced by solar panels at another location and receive a credit on your energy bills.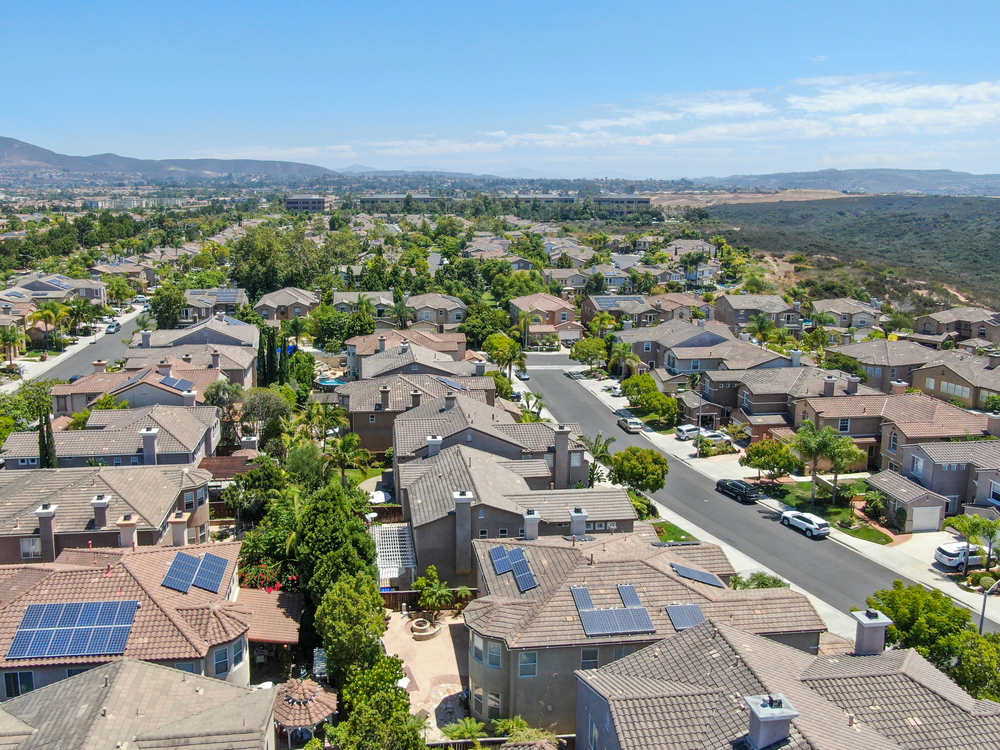 California Solar Power FAQs
Is solar power good for the environment?
Solar power is a more sustainable power source than coal or gas. Fossil fuel electricity emits greenhouse gasses, including carbon dioxide, into the air when burned. Solar energy is a greener alternative to fossil fuels because it is renewable – the sun always produces the energy needed to create electricity. When you convert the sun's power into electricity for a home, you eliminate greenhouse gasses.
Does California require home solar panels?
In 2018, California passed a mandate requiring new single-family homes and multifamily buildings up to three stories high to install solar panels. This mandate took effect in 2020 and requires new construction projects to include a solar system that will cover the household's energy needs each year based on the climate and square footage of the home. If you live in a home built before 2020, you are not required to purchase solar panels.
How can I find a solar installer in California?
With many solar installers available throughout the state, it can be tricky to choose the right company. If you're searching for a California solar installer, take the time to thoroughly review your options, read customer testimonials, and get multiple quotes from different installers.
Install Solar with Sunlight Solar Inc.!
At Sunlight Solar, Inc., we are a local Southern California Solar Company that aims to help homeowners with affordable means to lower their electricity bills and protect the environment. Call us at (858) 564-8032 or click here to discuss if solar panels are right for you! We will thoroughly evaluate your home and the effectiveness of a potential solar system before providing you with a FREE quote.